2011 NBA Playoffs: Round 2!
The first round of this year NBA playoffs is as exciting, if not more exciting, as the 2007 playoffs. Why? One Word: UPSETS. And for this year, there are two! The West #8 Memphis Grizzlies ousted West #1 San Antonio Spurts, and over the East, #4 Orlando Magic was beaten by #5 Atlanta Hawks. I am hoping to see a Portland moving to the second round as well, but Dirk Nowitzki and the Mavs never let it happened.
Now, for the match-ups in the second round:
Western Conference
#4 Oklahoma City Thunder vs #8 MEmphis Grizzlies
Three years ago, both team are bottom dwellers at the Western Conference. But it was also the time that both teams are investing into young, talented players and both are reaping the fruits now. Grizzlies, fresh from its upset on Spurs, will be banking on its frontcourt duo of Gasol and Z-Bo. OKC will try to neutralize that through Perkins and the shotblock monster Serge Ibaka.
At the frontcourt, I see Westbrook dominating the Memphis guards. Please put Tony Allen over Westbrook. But the major focus would be on Kevin Durant who will be presenting a real headache to the Grizzlies. Unless, the Grizzlies will gang-defend Durant, KD will be shooting the lights out. Rudy Gay, Grizzlies SF start will be sorely missed.
My take: OKC in 6 games
#2 Los Angeles Lakers vs #3 Dallas Mavericks
The just had a brawl last April 1. It's surprising to know that both team have never met yet in the playoff series. Both are perennial top West teams throughout the years. Another similarity is that both teams have to grind it out to survive the first round. Lakers and Mavs are starting to flip the switch and will be both engage into what I think a defensive series. Lakers stopping Dirk, Mavs stopping Kobe. Pau Gasol is just starting to warm up, while Jason Kidd is showing shades of old self. Lakers might dominate the inside, while the Mavs will be taking over the perimeter including the 3pt line.
My take: Lakers in 7. Why? Because a Laker-OKC Western Conference finals is a sure blockbuster
Eastern Conference:
#1 Chicago Bulls vs #5 Atlanta hawks
Hawks disposed the Magic by allowing Dwight Howard to dominate while shutting down other Orlando players. The key for the upset is that Hawks was able to take away the 3pt shooting of the Magic and the superb showing of Jamal Crawford during the series (i.e. hitting a rush, Hail Mary, off balance 3 pointer). The Bulls grabbed the home court advantage throughout the playoffs by winning 62 regular season games. Bulls dispatches Indiana Pacers after 5 thrilling, close games. D-Rose will sure be taking the MVP plum this season.
The Bulls are up 3 games to 1 against the Hawaks in the regular season. The Hawks will be having some tough time defending and pressuring Derrick Rose. Are there any qualified defenders in the Hawks roster? On the other hand, the Hawks might want to pound it inside using Horford and Josh Smith since Boozer is injured. Guards from both teams will be playing significant roles in this series i guess.
My take: Bulls in 6. Why? Because they are destined to be in the Eastern Conference Finals
The series above will be heavily overwhelmed (yup, exaggeration intended), by this series. Many consider this as one of the most explosive semi-finals matches in the NBA. An early Eastern Conference finals. And talking no other than:
#2 Miami Heat vs #3 Boston Celtics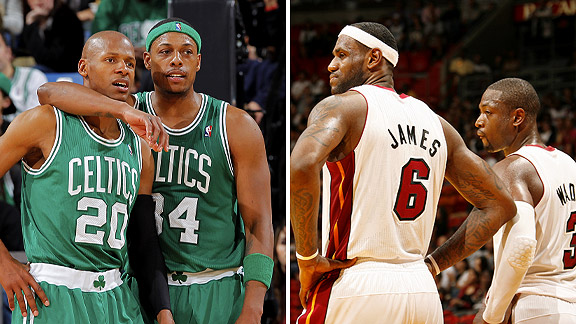 The new Big Three will be waging war with veteran Big Three. When Lebron James, Dwyane Wade and Chris Bosh joined forces in Miami to win championships, it will be inevitable for them to meet the Celtics who has been reigning the Eastern Conference in the last 3-4 years. Various storyline are plotted already:
1. Celtics eager to come back to the NBA Finals and prevent the Lakers to tie for the most number of championships. This might be the last hurrah for Boston.
2. Heat to take revenge to the Celtics. James' Cavaliers was ousted by Celtics in two of the previous three playoffs while Wade's 2010 Heat was eliminated in the playoffs last year
3. Both teams are bannering 7 All-Stars and 6 future hall of famers.
4. Lebron James validation for being the best player in the planet now can only happened if he will win a ring. Celtics is a gigantic road block.
Both team are defensive. Offense-wise, it seems that Heat runs a two man show (sometimes three) via Wade and James. Celtics run more of balance scoring attack but all starts from its point guard, Rajon Rondo. I am seeing a 6"8' hulking Lebron James guarding the thin 6"1 Rondo. Wade would rotate to Ray Allen, but who will guard Paul Pierce? Down low, it will be physical match-up between Kevin Garnett and Chris Bosh. Shaq might even play.
Heat on the other hand lives and dies with its big three. Before it was only Wade and James who do most of the damage until Bosh demand for a more participation in the offense. The three have already combined at least 80 points in some of the games. It will be interesting to see if Celtics' anti pick and roll defense could neutralize the Heat offence. x-factors would be Jermain O' Neal and the Miami Heat point guards (chalmers, bibby)
My take: Boston Celtics in 7. Heat will have their time next year.